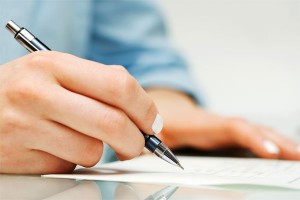 Every successful business owner will have to write, or hire someone to write, at some point in time to promote their business. It's important to recognize what type of writing will need to be performed in order to communicate your message effectively. Ask yourself the question; am I writing to communicate or am I writing to sell? Yes, there is a difference!
Writing to Communicate
When writing to communicate what you're really doing is writing to share information. This could be with a current customer or it could be with a potential customer. Think blogs, white paper, advertorials, eBooks, eReports and other platforms that allow you to share important information about you as a business owner or your business. When writing to communicate your goal should be to teach, inform, engage and inspire. It is an opportunity to demonstrate your knowledge while providing value and if done correctly you will open the channels of communication with customers and potential customers.
Writing to Sell
Writing to sell is different and often referred to as copywriting. When writing to sell your focus is usually on your sales pages, sales emails, direct mail, websites and brochures. In this case you are writing to tell people exactly what it is you do, how you do it and why it will help them. You will use emotional trigger words that leads the readers to a conversion.
Content Marketing
In content marketing you are developing a strategy to promote your business by distributing valuable, relevant and consistent messaging via various media platforms. In this type of marketing you will lean more towards writing to communicate. You want readers to learn who you are and what it is you do but you do not want to come across as overtly selling. You may want to do this through placing your content on websites, guest blogs, online articles and offline magazines.
Sales Page Writing
The writing on a sales page is all about the conversion. Your writing will need to persuade the reader to take action. It will be copywriting heavy and that is ok. Along with display advertising, banner ads, and emails this writing will be strong and it will need to be compelling. It is very different from content writing.
Combining Writing to Sell and Writing to Communicate
I hope that you have found this blog valuable so far. I hope that you have learned a couple of things and I really hope you will consider a response to what has been written. If that is the case then I have successfully achieved my 'writing to communicate' goal thus far. Now, could this blog turn into a writing to sell piece? The answer is yes. As I approach the end I could shift the focus and the language to influence you into a purchase or to sign up for something. By doing this I am mixing both styles of writing.

Even though I said earlier that copywriting is more often used when writing to sell, it can help with every type of writing you do for your business. You will find it in blog headlines and in email titles. It is the words used and the sentences formed that will entice the audience to continue reading and leave them with the desire to learn more.

You want people to want to read what you have to say and to do this you need copywriting or they won't read at all. It will lead you to conversions and results you are looking for. Best of luck on your journey to learn all you can about the various types of writing out there. If it isn't your thing, you may want to consider hiring an expert.

Click here for your copy of my ebook "Straightforward Strategies for E-commerce Success" a great guide full of ideas and practical tips to get you started and on the path to e-commerce success!