A No-Nonsense Guide
If you are in business, Facebook can play an important role in your marketing. It helps you connect and build relationships through updated posts. In fact, worldwide, there are over 1.35 billion monthly active Facebook users.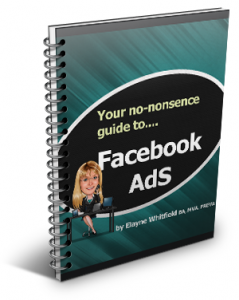 Facebook advertising is another way to meet new customers and connect them to your market.
On average, Facebook advertising reaches 89% of its anticipated audience.
With Facebook ads, you have the ability to create multiple ads to help build your audience. Specific targeting options enable you to show your ads to only those people you want to reach. Facebook provides the tools to help you budget your ad spending and can track your ads to see which versions of your ads work best.
In this e-book, you will learn the different types of Facebook ads, the features of an ad and the different ways you can target your ads. You will also learn how to track your budget and the different payment structures available.
Here are the details…
Your No-Nonsense Guide to Facebook Advertising covers:
Getting started
Choosing ad features
Ad basics
Targeting strategies
Setting payment structures
How to bid for your ads
Tracking your budget
Using the power editor
Next steps
…and more.  It provides you with the information you need to start using Facebook ads.
Here is a sneak peek inside:


Facebook Ad Campaign Checklist : This checklist will make sure you take all the right steps in order to make using Facebook ads a success.  Here is what it covers:
Before you begin
Targeting
Budget
This checklist will ensure you have all the necessary checks and balances in place before placing your Facebook ads.
Here is a sneak peek inside:
Mastering the art of creating great Facebook ads will make you money.  It will make your clients money. This is a HIGH-DEMAND service right now! Invest a small amount in your business.