Want to know how to become a Virtual Assistant but you just don't know where to start?
Now there's one affordable book that takes the guess-work out of starting your own successful VA business …
How to Build a Successful Virtual Assistant Business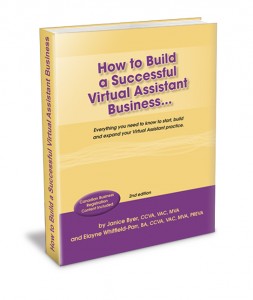 Becoming a Virtual Assistant who commands top dollar from clients who live hundreds or even thousands of miles away seems like a perfect way to earn a living, doesn't it? But it might also seem like an impossible dream.
There's so much to do in a day you may wonder how any VA ever got around to actually making money.
If you are asking yourself these questions about entering the Virtual Assistance industry:

How much money will it cost to start a business?

Can I use the computer equipment I already have?

Do I need to go back to school or get VA training?

How will I balance working from home with family life?

Should I write a business plan? And how do I write one?

How do I get clients? And what should I charge them?

And the questions go on and on and on …
You're in good company.
Now there is a Virtual Assistant book that will answer all of the above questions in detail and using proven methods for succeeding as a VA. Anything you've ever wanted to know about how to become a VA—and earn top dollar doing it—is all here in this one, affordable resource.
But this isn't just any how-to VA book …
Page after page you'll feel as if you have your own personal "VA Coach" guiding you every step of the way toward making your dream of becoming a Virtual Assistant a reality. All in an easy to read format. How to Build a Successful Virtual Assistant Business is the business bible that you'll reach for over and over again as you build, market and operate your VA practice like a pro.
Written by 2 VA industry veterans from Ontario, Canada, How to Build a Successful VA Business is over 200 pages of practical, step-by-step information and advice, including how to:
Decide if becoming a Virtual Assistant is right for you, personally and professionally.

Develop a business plan to secure funding and guide your long term success (templates included!).

Figure out what to charge so that clients are happy and you still make a profit.

Offer services that keep clients coming back for more (and sending you referrals).

Purchase equipment and marketing materials without wasting money.

Grow a successful VA business AND enjoy and care for your family.
No quick fixes or rags to riches promises in this VA book. Instead, 2 industry experts will show you exactly how to plan, launch and develop your VA business for long term success. Their methods are proven. And the success both they and those that have followed in their footsteps enjoy speaks for itself.
Of all the VA books available online today, How to Build a Successful Virtual Assistant Business is the only you may ever need.
Are you ready to set aside your fears?
Are you ready to work on YOUR terms?
Are you ready to LOVE what you do for a living?
Are you ready to pursue your dream of earning a living from home?
Digital Download (
use promocode DigitalDiscount for $10 off)

Softcover