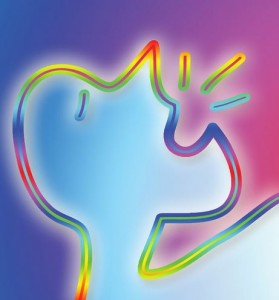 Your blog, website, email newsletters, social media posts and other means by which you communicate with the world is how you share your voice, vision and perspectives. The ideas presented on these platforms are unique to you and this should be clearly reflected to your audience. If you want to stand out from your competition, there are many things you can do to separate yourself from the ordinary.
* Blog Regularly – The first thing you need to know about getting your vision and voice out into the world is that you need to do it regularly. Blog regularly, update social media regularly, appear as a guest regularly, and take every opportunity you can to be yourself representing your personal brand.
* Mix up the Formats – A blog doesn't have to be text based. It can be in the form of infographics, memes, podcasts, videos and more. Use every content format that you can as long as it fits within your brand and the image you want to portray to your audience. Re-purpose content into new forms to get the word out to more people.
* Create a Plan of Action – The content that you create should have a purpose. The best way to ensure that the purpose matches your goals is to develop a plan that you will use across all channels; one that encompasses all promotions planned and events scheduled. Additionally, your plan can include current events and updated news if you're ready.
* Understand Your Niche – You can never study your niche enough. Devote some of your time each week to understanding who your audience is and should be, inside and out. Study the history of your industry as well as what is happening today and what might happen in the future. Keeping your ear to the ground will make you a go-to expert in your niche and will keep your blog current.
* Know Your Audience – While you do want to add your own vision and voice, it's also important to understand how far you can go without upsetting your core audience. For example, if you start a blog for people who are vegans and then change your mind, that's okay, but realize that you're going to change your audience entirely as well as the focus of your blog and this could disrupt what you have already established.
* Don't Be Afraid to Be You – One of the most wonderful aspects of being online is the ability to be free to be yourself. You will find support and belonging for any lifestyle but you'll also find detractors. To be truly authentic you cannot worry too much about your detractors. Put your audience and your true self first and foremost all the time.
* Be Consistent Across all Channels – Whether it's your blog or a social media channel, it's important that you keep the same flavor, voice, and vision apparent in each space. This will make you appear more trustworthy and help your audience get to know you even better.
* Engage Authentically with your Audience – Outside of blog posts, social media posts and other forms of content that you put out into the world, there are also discussions and comment sections in which you can engage. Be yourself when you interact with your audience, too. They want to know what you really think and this is a great way to do so.
Each blog post or other content platform that you send out into the world is important all on its own. Content spreads your message, establishes you as an expert, and drives traffic through keywords and more. Each deserves the attention called for to bring your unique voice and vision to them.
Even if you hire someone to write for you as a ghostwriter, it's important that you edit the content to bring more of yourself to the blog. Whether it's a sign-off phrase you want to use, or a special way with words that impacts your readers, be yourself. What matters is that you're consistently yourself no matter where the content appears.