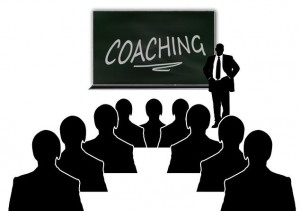 Today, more and more people are hiring life and business coaches. Coaches can help you set goals and create a plan for you to work towards achieving them. Similarly to fitness or athletic coach, life and business coaches help you develop your strengths and work around your weaknesses while getting you to a point where you are at your best.
Almost anyone could benefit from having a coach, but people who operate their own businesses from home may reap more rewards than those who work in offices. This reality is partially due to the fact that working from home will generally make you more isolated. If having someone to bounce ideas off or brainstorm with is something that you're missing, a coach should be something to consider.
Coaches will also hold you accountable for your actions. If you are in direct sales for example, and your goal is to sell $400 worth of product each week, your coach will help you set mini goals to accomplish what you set out to achieve. When you meet with your coach and they ask you what you have done, you need to be honest. There is no convincing yourself that failing to reach a goal is no big deal when someone else is holding you accountable.
To name just a few, coaches can also help you with time management, leadership, and customer service skills. If you tend to procrastinate or struggle with fears of success or failure, a coach can help you work through it. Some other issues that coaches can guide you through are: creating a better balance between work and life, becoming more organized, and improving your communication skills.
Good coaches will also give you truly honest feedback. They will let you know where you are lacking and give you tips on how to improve. It can be hard to hear criticism, but if it makes you a better business person in the long run, it is worth it. And if dealing with criticism is something in-and-of-itself that you struggle with, a good coach will help you with that too!
Many coaches will offer a complimentary session or trial period to help determine if your personalities mesh well or not. Different coaches have different styles, so you may want to talk to several before you choose the right one for your needs. You may also want to ask them about their accreditation and experience. If you are having specific issues with a certain aspect of your business, ask if they have experience in that area.
A coach may choose to work with their clients via email, one-on-one telephone calls, or group calls. If you feel intimidated to speak up in a group session, let your coach know. Many people however enjoy group sessions as it allows them to see what other people are going through.
Coaching rates can vary quite a bit. You can expect to pay anywhere from $50/hour to several hundred per hour for the more accredited names.
It is important to remember that a coach is not a therapist and cannot fix your problems directly. They can guide you along the way to success, but you will need to be fully committed to making a change if you want to see real results.