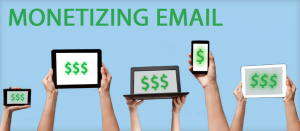 Successful marketing plans require creativity. The most creative marketers, entrepreneurs, and businesspeople are almost always the most successful as creativity is what separates you from the pack. Email marketing may offer security and long-term income, but it is nothing without an effective and creative platform for monetizing it.
These five options take different approaches to monetizing email traffic and all offer the potential for outstanding results. No matter how your business operates, these five strategies can help you boost income and increase orders.
 1) Sell affiliate products.
A popular method in the online marketing world since the late 1990s, affiliate marketing brings the potential for profit more than any other strategy. In exchange for potential clients, affiliates are paid for every sale that is generated.
The business of email marketers puts them in a unique position to be wildly successful with online affiliate programs. With a trusting and value-added email marketing list, even a slight mention of an affiliate product can generate sales for the advertiser; sales that mean valuable commission income for yourself.
 2) Drive leads directly to clients.
There are countless businesses out there that, while lacking an official affiliate program, would happily pay you for incoming business leads. If your email marketing efforts are focused in specific markets, you could contact businesses in these markets directly and offer leads to them.
From real estate agents to simple product-based businesses, almost all local, national, and international businesses are interested in generating more sales, and with the valuable leads that you bring them, you could collect a substantial commission. Refine your business-to-business sales pitches, get on the phone, and get to work earning directly from local businesses.
 3) Market your own products and services.
It is one thing to take a commission from another business, but it's an entirely different game when you're making 100% of the profits from your own product sales. With a minor time commitment, you could have your own eBook to sell, your own utility to market, or your own coaching program to advertise for. Rather than taking just a portion of the returns from someone else's product sales, apply your creativity to your own business and create a way to market to your email subscribers directly.
4) Ask for client or customer referrals.
The success of referral-based businesses is evident all over the internet. Zappos, a leading online shoe store, generates business almost entirely through word of mouth marketing efforts and customer referrals. By offer focusing primarily on their incredible customer service, their email subscribers spread the word to their friends which expands Zappos' marketing power and their audience size.
It's simple, ask your email list for client or customer referrals. If you market to people who are seen as authorities in your target market, you could very well end up with an endless stream of referral sales and contracts.
5) Send subscribers to Adsense-powered websites.
Although sending subscribers to an Adsense-powered website is unlikely to earn you more than a few dollars per email, it can be a good way to test websites before they are officially launched. With a few quick split-testing scripts, a small list of hundreds of prospective customers and visitors can be the perfect testing resource for a pre-launch website or commercial online property.